Drymatic II with Y Piece Kit, Injection Kit & Exhaust Kit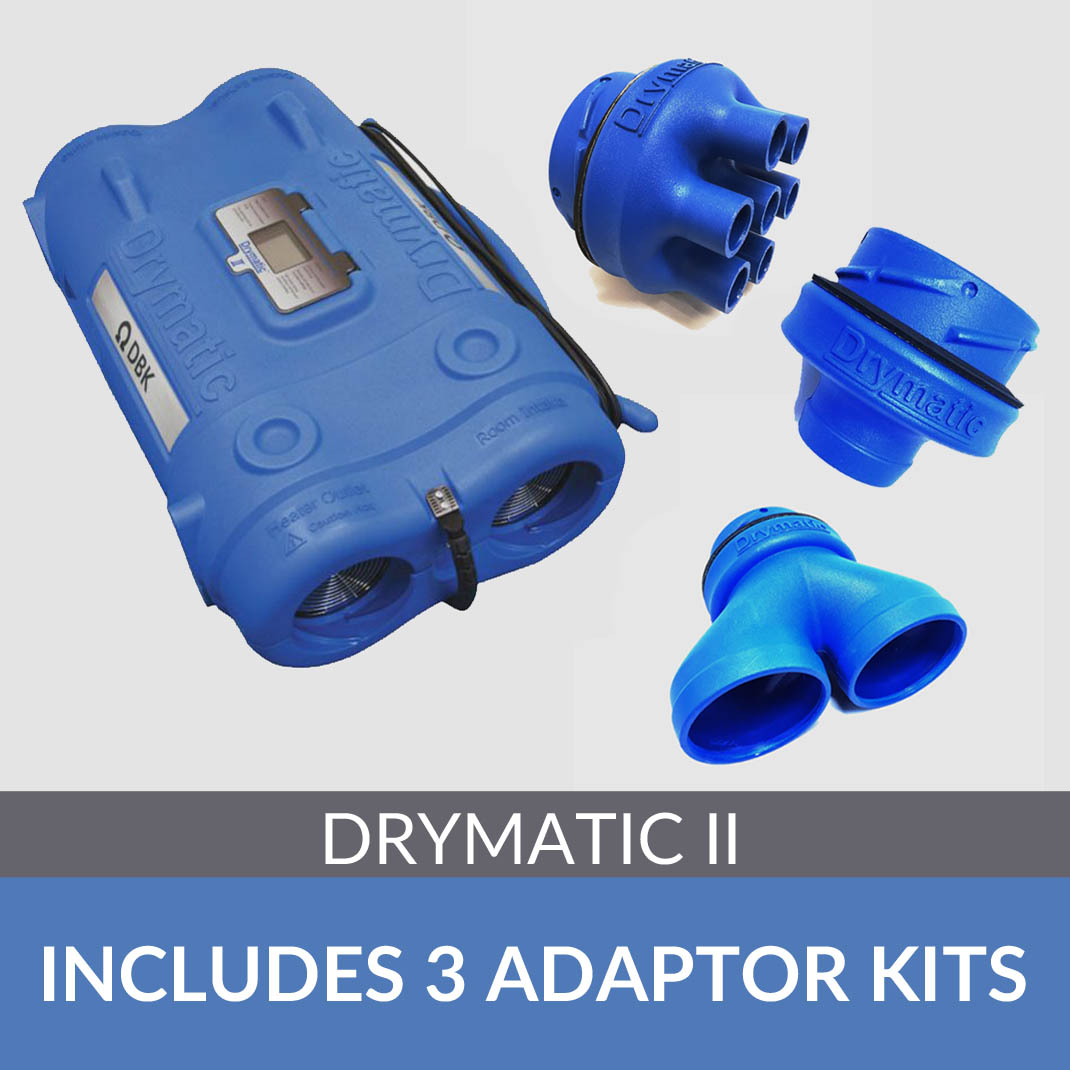 Drymatic II with Y Piece Kit, Injection Kit & Exhaust Kit
Quiet, Intelligent & Energy-Efficient

Heat & Air Exchange to Optimise Drying Conditions

Operate in Neutral or Negative Pressure

Excels in Class 4 Drying Situations

Flexible System with a Range of Attachments

25 kg - Roto-moulded - Stackable

SAVE $$ and get the DRYMATIC II with a Y PIECE, INJECTION KIT & EXHAUST ADAPTOR KIT
FIND YOUR DRYMATIC STOCKIST HERE:

sale
Description
The award winning DBK Drymatic System was developed to offer the Damage Management industry a cost-effective tool that would cater for a broad range of structural drying requirements including floor drying and moisture removal.
This kit includes all three of our Drymatic II adaptors:
Drymatic II Instructional Video - Part 1
How to set Up.

How to use the Hose Kit

How to use the Y Piece kit

How to use the Step Down Exhaust System How to utilise the Drymatic II and Drying scenarios.
Drymatic II Instructional Video - Part 2
Quiet, Intelligent & Energy-Efficient

Heat & Air Exchange to Optimise Drying Conditions

Operate in Neutral or Negative Pressure

Excels in Class 4 Drying Situations

Flexible System with a Range of Attachments

Stackable Roto-moulded double skinned housing/body

Weight is only 25 kgs
Portable, plug into a 10Amp Power Outlet (no gas or diesel required)

Touch-safe Heater Outlet

Quick-fix hose connection

Wheels for easy manoeuvrability

Significantly reduces the drying life cycles

Enhance your Experience with the 7 Port Adaptor Kit – turn your Drymatic II into a Push/Pull cavity drying system!
Which includes 3 x grey hoses, 1 x Foil hose, 4 x roto-moulded screw in connections, 4 x Jubilee clips and a sturdy hose bag
Features
Drymatic II - The right tool for the job
Recirculation Mode
The area is continuously heated up until either a temperature or humidity limit is reached.
During Recirculation Mode the Drymatic II takes air in from the Room Intake, moves it through the machine to measure Temp and RH and then reheats the air to raise ambient temperature. It stays in this mode for a maximum of two hours or until preset conditions are met.
Exhaust Mode
Exchanging the warm, humid air with warm, dry replenishment air. The Drymatic II can cycle between these modes to maximize the amount of water removed from the area.
In Exhaust Mode the Drymatic II takes air in from the Room Intake and purges it straight through the machine to outside via the Outside Exhaust. At the same time the machine takes in replenishment air from an unaffected area (Outside or another room maybe) and heats that air before pushing it in to the drying chamber.
The default cycle is 2 Hours Recirculation (Reheating) and 8 Hours Exhaust (Purging). We are working on firmware to make these timings programmable by the user as sometimes 8 hours Exhaust is overkill. However it's better to Exhaust too often than not enough!
If you want to put the environment under slightly negative pressure the machine can go in the space being dried and you simply leave off the Outside Intake pipe and let the building space breathe naturally.
There are a number of ways to set the Drymatic II up to suit different situations and the recent launch of further connections expands the range of use further.
THE TWO SIDES OF THE DRYMATIC II
The side with the foil heater hose is the Heater Outlet (Heated Air). Next to that is the Room Intake (Air from Drying Chamber)

On the other side of the machine is the Outside Exhaust (Wet Air from Room) and the Outside Intake (Replenishment Air).
There are two distinct modes of operation, Recirculation and Exhaust.
The adaptor kits
Drymatic II Injection Drying/Extraction Adaptor Kit
Further enhance your Drymatic II experience!
Turn your Drymatic II into a Push/Pull cavity drying system using our 7-Port adaptors and hose kit. Create Positive, Negative or Balanced drying regimes by manipulating the number of connections fitted.
INCLUDED 2 x Drymatic II Multi-port Adaptor 38mm 30m of 38mm Hoses 14 x Hose Cuffs 1 x Carry Bag

Drymatic II Y Piece Adaptor Kit
The Y-piece splitter allows you to split your airflow into separate chambers/rooms from the Drymatic II. This Y-Piece allows you do duct the controlled heated airflow into 2 areas.
INCLUDED Y Piece Adaptor 3 x 5m 150mm Hose 3 x Jubilee Clips 1 x 150mm to 150mm Joiner 1 x Carry Bag

Drymatic II Exhaust Adaptor Kit
The Exhaust Adaptor allows the Drymatic II exhaust outlet to be reduced from 150mm to 100mm which allows you to exhaust your Drymatic II into a downlight, toilet window vent etc.
INCLUDED 1 x 150mm to 100 Reducer Adaptor 2 x Jubilee Clips 1 x 6m of 100mm Hose
Kitchen Kit
INCLUDED 14 x 38mm to 25mm Step Down Connectors and 2.5m of 25mm Black Hose